Ocean City Police
Department
K9 UNIT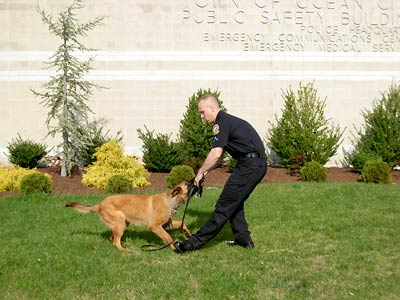 For more than four decades, canine patrol teams have been an integral part of the Ocean City Police Departments approach to law enforcement and that continues to be true today. Though much has changed since its inception, the K9 Patrol Teams that comprise today's roster still embrace the proud, distinguished and long standing tradition of having these valued resources within the ranks of our department.

K9 teams are authorized to respond wherever and whenever they are needed. In absence of a call for service, K9 Patrol teams often participate in specialized training, public relations events, self initiated patrol and/or render assistance to state and county law enforcement patrols in the Ocean City area. We are sensitive to the demands and expectations of those that call upon our services and are continually evaluating our methods and deployment to ensure we provide a effective, responsive program.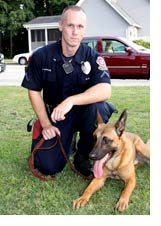 Accordingly, as representatives of the Ocean City Police Department and the Town of Ocean City, each patrol team is held to the highest standard of performance, professionalism, and appearance. Candidates for the K9 Unit must first complete a minimum of three years of uniformed patrol before they are eligible to apply for and begin the competitive selection process. Applicants are evaluated on physical aptitude, sustained job performance, and special skills or experience prior to their appearance before a panel of unit representatives and supervisors.

Once selected and assigned to the K9 Section, new handlers and their K9 partners must attend a 10 week academy-styled patrol program that develops the capabilities and physical conditioning of handler and canine alike. During the patrol academy, a full time 40 hour/week assignment, K9 Patrol Teams will acquire the skills, tactical foundation, specialized training, and discipline needed to begin performing tasks such as tracking / trailing, area scouts, building searches, evidence recovery, crowd control, tactical mission support, search & rescue operations, perimeter-containment, apprehension, handler protection and narcotic odor detection.

At the completion of their training, all uniformed K9 Patrol Teams certify to MPCTC (Maryland Police and Correctional Training Commission) standards. Additionally individual handlers may elect to attend and participate in additional training provided by professional organizations such as the North American Police Work Dog Association (NAPWDA) and Northeast Wilderness Search & Rescue (NEWSAR). Realizing that K9 Patrol Teams are often among the first specialized units to be called to a scene, K9 Handlers are encouraged to seek out and participate in additional advanced training such as High Risk Patrol Procedures, Visual Tracking Techniques,  Emergency Medical Training (EMT certified), Evidence Recovery, Crime Scene Management, Basic & Advanced Narcotics Identification, and regular Legal Issue updates & reviews.