Ocean City Police
Department
Captain Kevin Kirstein
-
Email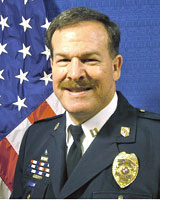 Kevin Kirstein began his employment with the Ocean City (Maryland) Police Department in 1980 as a seasonal police cadet while attending the University of Maryland at College Park. Upon graduation, with a bachelor's degree in law enforcement, Kevin was hired as a fulltime police recruit in 1983 by the Ocean City Police Department and attended entrance level training at the Eastern Shore Criminal Justice Academy, graduating first in his class.
Assigned initially to the Patrol Division, Kevin attended advanced training in traffic crash reconstruction techniques and joined the Traffic Safety Unit. He was acknowledged as an expert witness in the field of traffic crash investigation and reconstruction and, after being promoted to sergeant in 1988, went on to serve as the unit's supervisor for many years.
Kevin was promoted to lieutenant in early 1991 and served as a patrol duty lieutenant, Assistant Administrative Division Commander and Assistant Patrol Division Commander over the next several years. In 1998 Kevin graduated from the FBI National Academy in Quantico, Virginia and returned to the Ocean City Police Department as Commander of the Criminal Investigation Division.
Immediately after the tragic events of September 11, 2001 Kevin was detailed to the New York City Mayor's Office of Emergency Management. Recognized as an expert in the field of critical incident management, Kevin responded to ground zero and worked closely with the incident command team's logistics section.
Kevin returned to the Patrol Division as Assistant Commander in 2002. In January of 2004 Kevin was appointed Patrol Division Commander and assumed responsibility for the day to day operations of the Department's largest division. He was promoted to captain in June of 2004.
Kevin and his wife, Connie, have three children and have lived in Ocean City for more than 25 years where he also volunteers with the Ocean City Volunteer Fire Co., serving many of those years as Assistant Fire Chief. In his spare time he enjoys fishing, flying, motorcycling and teaching terrorism awareness and emergency response programs to first responders throughout the nation.