The Ocean City Police Department's (OCPD) Christmas Food and Toy Drive proved to be a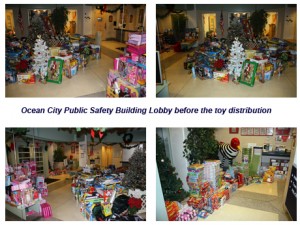 blessing to many local families this holiday season. With a volunteer crew of more than 40 people, former Chief Bernadette DiPino and her staff tended to more than 75 families, including almost 200 children, this past Saturday at the Public Safety Building.
The annual OCPD Christmas Food and Toy Drive was started by DiPino, who got the idea from her grandfather while he was a member of the Baltimore Police Department many years ago. The tradition was continued by her father in Baltimore and later by Chief DiPino in Ocean City.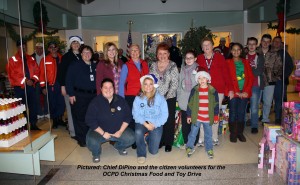 Acting Chief Kevin Kirstein was very pleased with the event. "We hope to continue this annual event, as it helps families in need," said A/Chief Kirstein. "Every year the Ocean City community generously comes together to help provide for those less fortunate families. It's extraordinary to witness the charity of our citizens."
Several Ocean City businesses and organizations contributed to the success of this year's Food and Toy Drive, including the Ocean City Elks Lodge and Elks Ladies Auxiliary who donated $4,000. Also making large contributions were the Delmarva Condominium Managers Association (DCMA) who stopped by the Public Safety Building with a truck load of toys and a cash donation of $1,000 and Atlantic Physical Therapy who donated 15 bicycles. Other significant contributions came from, the Ocean City Parrottheads, Fager's Island, The Original Greene Turtle, the Ladies Ancient Order of Hibernians, the OC Knights of Columbus Ladies Auxiliary, Paul Smith of the Photographers Studio, Caine Wood Association and the First State Detachment Marine Corps League. In addition, numerous toys, gifts and monetary donations were donated by several community members as well.
"It is the benevolence of Ocean City businesses and residents that makes it possible for less fortunate families to receive gifts, food and toys during the holiday season," Kirstein continued. "Events like this are one of the many things that make the Ocean City community so special and it is truly what Christmas is all about."