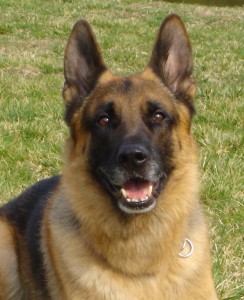 The Ocean City Police Department is mourning the loss of veteran K9, Jester, who passed away on February 18, 2012, one day after his 11th birthday.  Jester, who retired from the department in 2008, came to the OCPD from Augsburg,Germany, at which time he became the courageous and loyal partner to Pfc. Christine (Plant) Kirkpatrick.
Jester, who achieved the highest level of certification (Schutzhund) before joining the OCPD in 2004, spent hundreds of hours in training in Patrol/Narcotics Division.  During his career he completed over 250 drug searches, including one incident in which he found a half-pound of marijuana concealed amidst engine parts and a handgun on the front seat of the vehicle, which resulted in significant jail time for the suspect. 
With a skill for tracking, Jester was successful at locating 13 people on tracks and although he was tough on the road, he was also known throughout the community for demonstrations for children and community groups. "I have never seen a dog so loved by all who met him," commented (Plant) Kirkpatrick, former OCPD officer and partner to K9 Jester.  "I never intended to stay in police work very long, Jester is the reason I did. I loved being a K-9 handler from the first moment I got him and I couldn't have asked for a better first partner."
Since his retirement, Jester  lived a very happy life at home with Kirkpatrick.  He enjoyed playing ball in the backyard, relaxing on the couch and playing with his buddy Chance.  "His passing has left a hole in my heart that I think will never go away, he was a great work dog, loyal partner, and best friend," Kirkpatrick said.