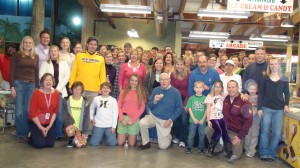 The Ocean City Drug and Alcohol Abuse Prevention Committee sponsored its 5th annual "March Madness Mini-Golf" fundraiser on Monday, March 12, 2012 at Old Pro Golf on 136th Street and Coastal Highway. The fundraiser, which benefits Play It Safe, had an estimated turnout of nearly 50 people, with the Ocean City Police Department and the Fraternal Order of Police (FOP) Lodge 10, making up five participating teams.
Also in attendance, were members from the Ocean City Recreation and Parks Department, the Worcester County Health Department, Ocean City Special Events,AtlanticGeneralHospitaland several volunteers from the Ocean City Drug and Alcohol Abuse Prevention Committee.  In addition, golf pros from Glen Riddle and Ocean City Golf and Yacht were in attendance. 
Play It Safe will be celebrating its 23rd year in Ocean City in 2011. Play It Safe began in 1989 as a program for the latest high school graduates. Play It Safe joins several Town of Ocean City departments, as well as local businesses and organizations, to encourage high school graduates to make informed, healthy choices while having responsible fun without the use of alcohol and other drugs.
To find out how you can volunteer or donate to Play It Safe, please contact Ocean City Police Public Affairs Specialist Jessica Waters at 410.520.5395 or visit www.playitsafeoceancity.com.