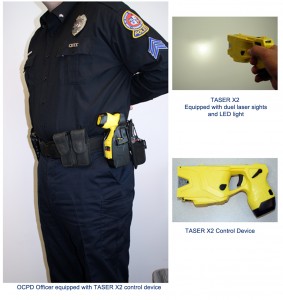 This week, the Ocean City Police Department will be joining other Eastern Shore law enforcement agencies, such as the Worcester County Sheriff and the Wicomico County Sheriff, by beginning the first phase of its TASER program implementation.  The department will be conducting specialized training for supervisors and officers in the use, deployment, procedures and policies regarding new TASER equipment.
In correlation with training of police officers, the OCPD wants to keep the community informed about this new TASER program. The OCPD is planning an open informational symposium for Ocean City residents, citizens, businesses and members of the media.  The symposium will address various topics dealing with the use of the new TASER system, including departmental policy and procedure.  In addition to providing information, the symposium will give citizens the opportunity to ask questions about the OCPD TASER program, as well as view a demonstration of the equipment.
The Ocean City Police Department believes that a well-informed community is the best form of crime prevention. The OCPD will be conducting the symposium onFebruary 9, 2012, fromnoonto2 p.m.at the Ocean City Northside Park Recreation Center meeting room. For more information about this symposium, please contact the OCPD Public Affairs Office at 410-520-5395.