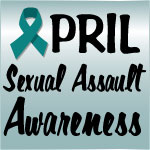 The Ocean City Police Department is supporting the U.S. Department of Justice Office on Violence Against Women (OVW) by recognizing April as National Sexual Assault Awareness Month. The 2012 Sexual Assault Awareness Month (SAAM) campaign centers on promoting healthy sexuality to prevent sexual violence by proclaiming "It's time…to talk about it!"
"This year's campaign encourages individuals and communities to participate in the conversations on how we connect with and respect one another in order to prevent sexual violence," said Ocean City Police Chief Bernadette A. DiPino.  "By talking about this topic we are making the connection that promoting a healthy behavior encourages relationships that are consensual, respectful and informed."
Sexual violence, including child sexual abuse, crosses all ages, genders, races, ethnicities and economic backgrounds.  According to the National Sexual Violence Resource Center, among college women, nine in ten victims of rape and sexual assault knew their offender. In addition, almost 12.8 percent of completed rapes, 35 percent of attempted rapes, and 22.9 percent of threatened rapes happened during a date.
The Ocean City Police Department, in partnership with Atlantic General Hospital, Worcester County SART (Sexual Assault Response Team) and the Life Crisis Center, raise awareness for sexual assault year-round through the Sexual Offense/Assault and Rape Reduction Project, also known as SOARr. "The purpose of SOARr, is to educate people about the dangers of sexual assault and teach ways it can be prevented. It targets teens and young adults, those at highest risk of a sexual assault, by providing messages such as "No means No," "No Friend Left Behind," and "Hand Over Your Drink," Chief DiPino continued. "We want to help people to use good judgment, remind them not to trust strangers and encourage them contact the police immediately if they are the victim of a crime."
For more information about National Sexual Assault Awareness Month, please visit http://www.nsvrc.org/.  In addition, victims seeking help should visit http://rainn.org, for live, one-on-one advice, support and information helplines.  The service is anonymous, secure and available 24/7 – providing victims with the help they need, via online, telephone or text message.