Recreation and Parks
Department
ART ADVENTURE CAMP
Program # 406110
Who

Boys and Girls, 6 to 14 years (must be entering the 1st Grade)

Dates:

Session A: July 14–17, 2014 (morning)
Session B: July 14–17, 2014 (afternoon)
Session C: July 21–24, 2014 (morning)
Session D: July 21–24, 2014 (afternoon)
Session E: July 28–31, 2014 (morning)
Session F: July 28–31, 2014 (afternoon)
Session G: August 4-7, 2014 (morning)
Session H: August 4-7, 2014 (afternoon)


Days:

Monday - Thursday

Time:

Morning Session: 9:00 a.m. – 12:00 Noon
Afternoon Session: 1:00 – 4:00 p.m.

Locale:

Ocean City Center for the Arts, 94th Street, Bayside

Cost:

Ocean City Residents: $126.00

Non-Residents: $146.00

A 25% Non-refundable deposit enrolls participant with balance due on first day of camp. Resident Deposit $31.50/Non-Resident Deposit $36.50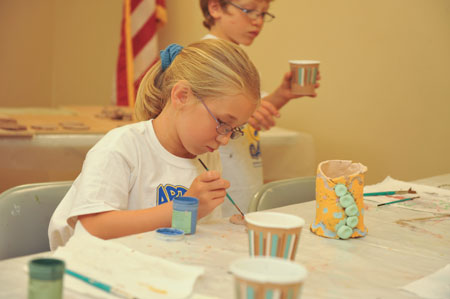 Kids ages 6-14 can immerse themselves in creativity at Art Adventure Camp this summer. Sponsored by the Art League of Ocean City and held at their new home, The Ocean City Center for the Arts on 94th Street. Art Adventure camp will offer a daily variety of art activities including, drawing, painting, pottery, sculpting, jewelry making, mixed media and more. Lots of fun activities are planned as well as time for individual artistic expression. Led by experienced art teacher and professional artists, your child will have fun, while building artistic skill.

Morning and afternoon sessions will be offered for all age groups and can be combined for a full day of fun. Camp runs Mondays through Thursdays. The morning session is from 9:00 a.m. – 12 noon, afternoon session 1:00 – 4:00 p.m. Some of the activities for morning session and afternoon sessions will be the same. Campers will be assigned to appropriate age group of 6-8 years old (must be entering the 1st grade), 9-11 years old and 12-14 years old.
Campers should report to the Ocean City Center for Arts at 502 94th Street (next to the tennis courts). Camp will end with reception and show for the parents at 11:30 a.m. for the morning session and 3:30 p.m. for the afternoon session on Thursdays.


Each participant receives a camp t-shirt, 4 x 6 photo with instructors, certificate of completion, and give a ways.
Click Here For Registration Form