Recreation and Parks
Department
OCEAN CITY BASEBALL CAMP
---
Program # 417101 A

Who:

Boys and Girls ages 7 to 14 years

Dates:

August 4 - 7, 2014

Days:

Monday - Thursday

Times:

10:00 a.m. – 3:00 p.m.

Locale:

Northside Park Recreation Complex

Price:

Ocean City Residents: $126.00

Non-Residents: $146.00

A 25% Non-refundable deposit enrolls participant with balance due on first day of camp. Resident Deposit $31.50 Non-Resident Deposit $36.50
The Ocean City Baseball Camp is designed to combine fun and fundamentals for players of all ability levels. Working on the basics and the refinement of skills while having fun is the primary goal of the camp. Building confidence in each participant, while learning, is an important strength of the program.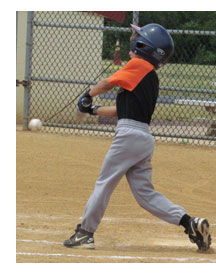 Chris Hudson of the Mid Atlantic Shockers Baseball Club will return this summer as our 2014 Camp Director.  Chris and his staff will gear the camp towards improving baseball skills, through fun and innovative drills for players of all ability levels. Each participant receives a camp T-shirt, 4x6 photo with coach, certificate of completion, and give-a-ways. Camper should bring a non-perishable lunch for the first three days, a pizza party will be held on the last day.

Campers need to bring a baseball glove, batting helmet, and indoor shoes for inclement weather.

The Northside Park Recreation Complex boasts a three diamond ball field complex, open space, and two air conditioned gymnasiums, plus all the comfort facilities necessary to provide a safe and enjoyable experience to all participants.
PROFESSIONAL INSTRUCTION
* Basic skills...throwing, catching, hitting
* Conditioning
* Strategy
* Competitive Games
CAMP EXTRAS
* Camp T-shirt
* Official Baseball
* 4" x 6" color photo with coach
* Certificate of Completion
* Pizza Party
* Give-a-ways
For questions, contact: Kim Kinsey
Click Here For Registration Form