Recreation and Parks
Department
BASKETBALL CAMP CO-ED
---
ALL STAR BASKETBALL CAMP
Program # 412110 A, B
Who:

Boys and Girls ages 7 to 17 years

Dates:

Session A: June 16 - 19, 2014
Session B: June 23 - 26, 2014

Days:

Session A: Monday – Thursday
Session B: Monday – Thursday

Times:

10:00 a.m. – 3:00 p.m.

Locale:

Northside Park Recreation Complex

Price:

Ocean City Residents: $126.00
Non-Residents: $146.00

A 25% Non-refundable deposit enrolls participant with balance due on first day of camp. Resident Deposit $31.50 Non-Resident Deposit $36.50

The Ocean City All-Star Basketball Camp is the perfect medium to teach young hopefuls the basic skills of basketball; or help those with experience refine their skills. Advancement into strategy and conditioning are strengths of the program, and will benefit hoopsters of all ability levels.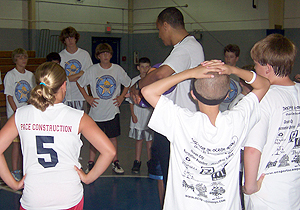 Camp Director, Steve Holmes, is the former Head Basketball Coach at Salisbury University, and begins his twelfth year at the Ocean City All-Star Camp. Coach Holmes' staff members are proven coaches on the collegiate or high school level with the experience and qualifications to help children achieve personal satisfaction while developing skills and having fun. Our coaches' commitments are to the growth and enhancement of basketball and to the children who love the game.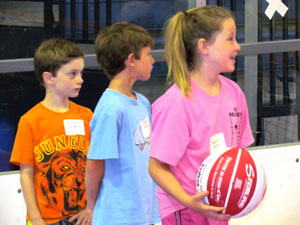 The Northside Park Recreation Center boasts two air conditioned gymnasiums, plus all the comfort facilities necessary to provide a safe and enjoyable experience to all participants. Campers should bring a non-perishable lunch for the first three days.
PROFESSIONAL INSTRUCTION
* Basic skills...passing, shooting, dribbling
* Conditioning
* Strategy
* Instructional Films
* Competitive Games
CAMP EXTRAS
* Camp T-shirt
* Official Basketball
* 4" x 6" color photo with coach
* Certificate of Completion
* Pizza party on the last day
* Give-a-ways
For questions, contact: Al "Hondo" Handy
Click Here For Registration Form