Recreation and Parks
Department
SHOWTIME DANCE CAMP
---
Program # 422110A

Who:

Boys and Girls 6-12 years of age

Dates:

August 4 - 7, 2014

Days:

Monday - Thursday

Times:

10:00 a.m. – 3:00 p.m.

Locale:

Northside Park Recreation Complex

Price:

Ocean City Residents: $126.00
Non-Residents: $146.00

A 25% Non-refundable deposit enrolls participant with balance due on first day of camp. Resident Deposit $31.50 Non-Resident Deposit $36.50
Turn, tumble, spin and mambo your way through this fun week of camp. In the Showtime Dance Camp participants will learn ballet, tap, jazz, hip-hop, gymnastics, performance make-up, hair and costumes all at Northside Park. Camp concludes with a performance for friends and family at 2:30 p.m. on Thursday.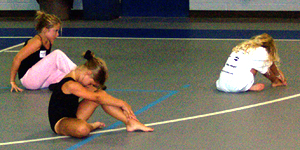 Showtime Dance Camp is lead by New Castle Dance Academy. Directors Valerie Gooding and Heather Pate are both NCDA trained and have won many competitions both as dancers and choreographers. In addition to their competitive and show works, both of them also teach beginners in programs such as Kinderdance, ballet, tap, jazz, and hip hop.
Each camper should bring a non-perishable lunch Monday – Wednesday. Pizza party on Thursday.
PROFESSIONAL INSTRUCTION
* Basic skills
* Conditioning
* Make-up
* Costumes
* Performance advice
CAMP EXTRAS
* Camp T-shirt
* 4" x 6" color photo with Instructor
* Certificate of completion
* Give-a-ways
* Pizza Party on Thursday
Link: www.newcastledance.academy.com
For questions, contact: Lynda Brittingham
Click Here For Registration Form
---
BALLERINA BEACH BABIES CAMP
---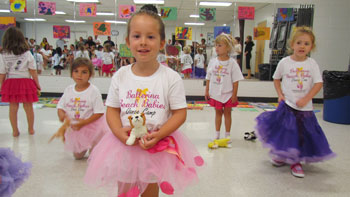 Program # 422110B

Who:

Boys and Girls, 3 to 5 years

Dates:

August 4 - 7, 2014

Days:

Monday - Thursday

Times:

Session 1: 10:00 am - 12:00 pm

Locale:

Northside Park Recreation Complex

Prices:

Ocean City Residents: $56.00

Non-Residents: $71.00

A 25% Non-refundable deposit enrolls participant with balance due on first day of camp. Resident Deposit $14.00/Non-Resident Deposit $17.75
Campers will enjoy ballet, tumbling, follow the leader, hops, skips and jumps all performed to musical theatre songs. Children will take turns and follow instructions through games and fun.
Character dress up day (bring your own), crafts, and a show on Thursday at 11:30 am. Participants must be fully potty-trained.
PROFESSIONAL INSTRUCTION
* Basic skills
* Conditioning
* Make-up
* Costumes
* Performance advice
CAMP EXTRAS
* Camp T-shirt
* 4" x 6" color photo with Instructor
* Certificate of completion
* Give-a-ways

For questions, contact: Lynda Brittingham
Click Here For Registration Form