Recreation and Parks
Department
FOR THE LOVE OF SOCCER CAMP
---
Program # 437110 A, B, C

Who:

Boys and Girls ages 6 to 14 years of age

Dates:

Session A: July 7 – 10, 2014
Session B: July 14 - 17, 2014
Session C: July 21 - 24, 2014

Days:

Monday-Thursday

Times:

Session A, B & C: 10:00 a.m. – 3:00 p.m.


Locale:

Northside Park Recreation Complex

Price:

Ocean City Residents: $126.00
Non-Residents: $146.00

A 25% Non-refundable deposit enrolls participant with balance due on first day of camp. Resident Deposit $31.50 Non-Resident Deposit $36.50

Under the direction of Bobby McAvan, former coach and player for the Baltimore Blast, For The Love of Soccer Camp has a lot to offer youth soccer players of all skill levels. This will be Coach McAvan's 29th year running this wonderful program. The camp offers instruction in both indoor and outdoor play, with the majority of play being indoors. The staff consists of proven pro level and college level players and coaches.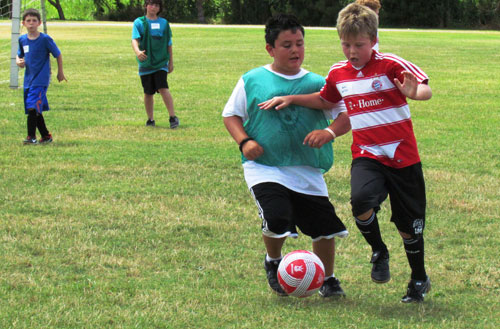 Ocean City's Northside Park is considered the top recreation facility on the Eastern Shore. Well manicured playing fields and an air-conditioned gymnasium, which converts to an indoor soccer arena, provide exceptional indoor and outdoor play.
Campers should pack a non-perishable lunch for the first three days of camp; a pizza party is held on the last day. A majority of this camp is played indoors and indoor shoes are needed every day.
PROFESSIONAL INSTRUCTION
* Basic skills...passing, shooting
* Conditioning
* Strategy
* Soccer Highlight Films
* Competitive Games
* Superstars Competition

CAMP EXTRAS
* Camp T-shirt
* Soccer ball
* 4" x 6" color photo
* Certificate of Completion
* Pizza Party on Thursday
* Give-a-ways



For questions, contact: Kim Kinsey
Click Here For Registration Form