Recreation and Parks
Department
OCEAN CITY TENNIS ACADEMY
---
Program # 417102 A-E
Who:

Boys and Girls, 8 to 18 years

Dates:

Session A: June 23 - 26, 2014
Session B: July 7 - 10, 2014
Session C: July 14 - 17, 2014
Session D: July 21 - 24, 2014
Session E: August 4 - 7, 2014

Days:

Monday - Thursday (Friday is rain day)

Times:

1:00 p.m. - 4:00 p.m.

Locale:

Ocean City Tennis Center, 61st Street & the Bay


Price:

Ocean City Residents: $126.00
Non-Residents: $146.00

A 25% Non-refundable deposit enrolls participant with balance due on first day of camp. Resident Deposit $31.50 Non-Resident Deposit $36.50

Be a part of a fun and informative tennis experience. Our Tennis Professional and his staff will conduct the summer Academy. Camps include instruction and strategy for all skill levels, games, activities, and refreshments. Price includes t-shirts, give-aways, and more!
The Ocean City Tennis Center boasts a full agenda of tennis activities. The Tennis Center, owned and operated by the Town of Ocean City, has six (6) "New" Premier tennis courts, and 3 Lee fast dry clay courts with a professional staff on duty from May 15 - September 1.
Located on 61st Street and the Bay, the courts are available on a first-come, first-served basis through early spring, and reservation opportunities are available beginning May 15 and running through September 30. Enjoy your tennis outing with other amenities offered at Ocean City's Tennis Center: on-site free parking, restrooms, tennis lounge, and pro shop. Activities include player matchmaking, clinics, leagues, team tennis, junior tennis camps, private and group instruction, and special events.
For more information on Ocean City Tennis Center, contact our friendly and helpful staff at 410-524-8337.
PROFESSIONAL INSTRUCTION
· Basic skills…. Forehand,backhand, serve
· Court Awareness
· Strategy
· Match Play
· Tennis related games
CAMP EXTRAS
· Camp T-shirt
· 4" x 6" color photo
· Certification of Completion
· Daily Snack
· Give-a-ways
Click Here For Registration Form
PEE WEE TENNIS ACADEMY
---
Program # 443017 A-E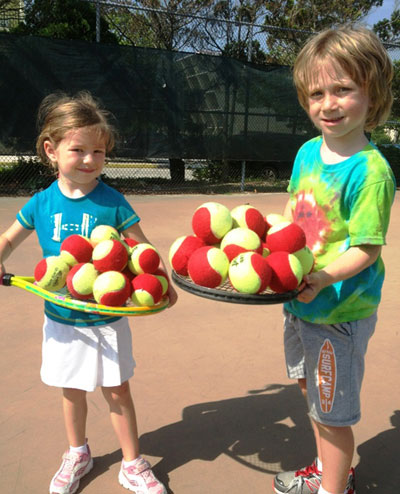 Who:

Boys and Girls, 4 to 7 years

Dates:

Session A: June 23 - 26, 2014
Session B: July 7 - 10, 2014
Session C: July 14 - 17, 2014
Session D: July 21 - 24, 2014
Session E: August 4 - 7, 2014

Days:

Monday - Thursday (Friday is rain day)

Times:

9:00 a.m. - 11:00 a.m.

Locale:

Ocean City Tennis Center, 61st Street & the Bay


Price:

Ocean City Residents: $92.00
Non-Residents: $112.00

A 25% Non-refundable deposit enrolls participant with the balance due the first day of camp. Resident Deposit $22.50 Non-Resident Deposit $27.50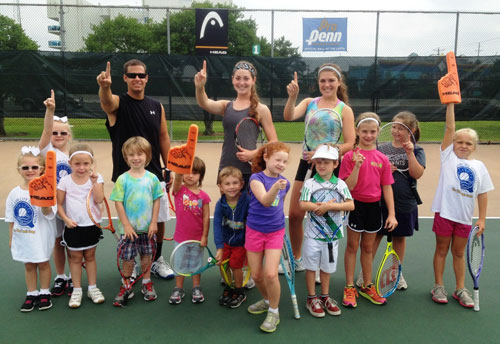 A great time for the littlest of players, 4 - 7 year olds. Get ready for summer fun! Participants will learn to develop a healthy attitude toward tennis, along with stroke basics, during this non-competitive camp. Camp includes basic instruction, hand-eye coordination and agility games, and refreshments. Price includes t-shirts, giveaways and more.
PROFESSIONAL INSTRUCTION
* Basic skills
* Hand-eye coordination skills
* Tennis related games

CAMP EXTRAS
* Camp T-shirt
* Certification of Completion
* Daily Snack
* Give-a-ways
For questions, contact: Kate Gaddis
Click Here For Registration Form