Maryland

State Basketball Tournament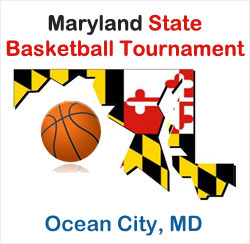 Welcome to the home of the Ocean City Recreation & Parks Maryland State Basketball Tournaments. This annual tournament series continues to showcase some of the best Men's Basketball teams in the mid-Atlantic region.
April 1 – 3, 2016 – Men's 35 & Over
April 22 – 24, 2016 – Men's Unlimited
Format: Double elimination tournament
Entry Fee: $500 non-refundable entry fee (payable to Town of Ocean City)
Entry Deadlines:
March 17: 35+

April 7: Unlimited
Entry Information: Teams who played in the 2015 tournament will receive priority consideration if registered by March 1, 2016. After March 1 all entries will be taken on a first come, first served basis until all spots are filled. No team is guaranteed a spot in the tournament just because they have participated in a previous year. Entry forms and payment must be received for a registration to be complete.
Player Eligibility: For the 35+ division, December 31, 2016 shall be used to determine a players age for tournament participation. For the Unlimited divisions age shall be determined as of April 22, 2016 (the first day of the tournament). All teams should carry proof of age for all players in case an eligibility protest is filed. This proof may include, but is not limited to driver's license, birth certificate, and military identification card.
Rosters: Rosters are final at check-in and are limited to 15 players. No exceptions! Please include full names, numbers, and dates of birth on the roster.
Awards: Team and individual awards will be given to the champion and runner-up teams within each division.
Hotel Accommodations: The official host hotel is the Clarion Resort. Please call them at (800)638-2100 for more information.
To Register: Use registration form and submit payment by the deadline to:
Ocean City Recreation and Parks
200- 125th Street
Ocean City, MD 21842
Attention: MD State Basketball Tournament
Questions?? E-mail us.

How do I register for the tournament?
Please use the registration forms provided on this website. These forms must be submitted by the deadline by mail, as the entry form must be signed! In addition a registration is not complete until both the payment and the registration form are received.
I sent in my forms, when will I find out if my team is in the tournament?
Teams are notified of their status on the first deadline for registration (March 1). If you have a question about your status please e-mail us
How many games do we get for $500?
This is a double elimination. Teams may play as many as 7 games to win their division championship.
Does the $500 fee include referee fees?
Yes, the $500 registration fee includes your entry and all referee fees.
Where should we stay in Ocean City?
The Fenwick Inn is the host hotel for the tournament. They are located at 138th Street and Coastal Highway, just 11 blocks from the tournament site. They have special tournament rates available, just call 1-800-492-1873 and ask for Beth. Don't forget to mention that you are playing in the St. Patrick's Indoor Soccer Tournament!
What is the roster size?
There is a strict 15-player roster cap.
How many teams are in the tournament?
The number of teams varies each year and for each division.  Typically there are 10-12 over 35 teams and 20-28 open teams.
When will my first game be played?
Depending on the number of entries, the tournament could begin as early as 7 p.m. on Friday night.
When are game schedules published?
Game schedules are released as soon as they are ready.  Look for them on the website approximately ten days prior to your tournament weekend.
Do you accept visiting officials?
We do not accept visiting officials.  For our tournaments we contract with the the Hampton Roads Officials Group to provide the highest quality officials possible.  Most of our officials work NCAA games at various levels.
Do you have a concession stand?
Yes, our concession stand opens 15 minutes prior to the first game and stays open until at least 9pm.
How do I get to Northside Park?
From the West (Baltimore, DC, etc.):
Take US 50 East to MD 90 East. MD 90 ends at Coastal Hwy in Ocean City. Go North on Coastal Hwy until 123rd Street. Turn left on 123rd Street. Go West 1 block and turn right on Jamaica Ave. The facility is on your right.
From the North (DE):
Take Hwy. 1 through Fenwick Island and into Ocean City. Once you enter Ocean City you are now on Coastal Hwy. Continue south until you get to 127th Street. Turn right on 127th Street. Go West 1 block and turn left on Jamaica Ave. The facility is on your right.