SAVE YOURSELF!
Ocean City Walk Smart! Campaign Features Cheswick, the Crab Lifeguard,Who Watches Over Coastal Highway
If your summer travel plans include surfing Coastal Highway in Ocean City, Maryland – Cheswick, the Lifeguard Crab, is watching over area roadways to keep pedestrians and bicyclists safe. A partnership between the Town of Ocean City, Ocean City Police Department, the Maryland Department of Transportation State Highway Administration and other local businesses and agencies, the Walk Smart! campaign raises awareness about the rules of the road to keep Ocean City residents and visitors safe this summer.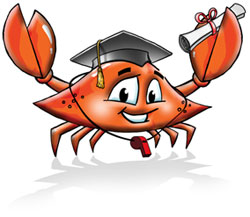 Unfortunately, even while on vacation, the grim reality of a traffic crash or incident can leave a wake of tragedy. Coastal Highway, a multi-lane highway, requires full attention while navigating whether on foot, bicycle or in a vehicle.  The efforts of this campaign are focused on making sure residents and visitors reach the beach safely, and stay safe
Special outreach will be focused on "Senior Week" visitors through a partnership with the Play It Safe campaign from June 1 – June 14. Backpacks and other items with the "walk smart" message will be distributed at events designed to safely entertain high school graduates. If you are parent of the member of Class of 2017 visiting Ocean City this summer, please remind your child to be cautious when crossing any roadway, especially Coastal Highway, to use marked cross walks and avoid distractions when walking, biking or driving.
Through the three E's of safety, engineering, enforcement and education,
we want to keep you safe!