OCEAN CITY FIRE MARSHAL'S OFFICE
410-289-8780  – 301 N. Baltimore Avenue, Ocean City, MD
The Ocean City Office of the Fire Marshal's mission is the preservation of life and the protection of property from fire, explosion and other associated emergency conditions in an effort to make the town virtually fire-free, accomplished through the development and implementation of proactive programs and services in the areas of investigations, public education, inspections and regulation. Our overall goal is focused on the prevention of death, injury and property loss to the residents and visitors to the Town of Ocean City.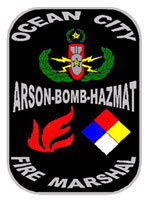 IMPORTANT INFORMATION
Information on new one & two family dwelling sprinkler legislation
Arson Hotline
1-800-492-7529
Call to report information or suspicious activity about a fire.
You can remain anonymous!