Partnership Opportunities
Phone: 410-250-0125 – Address: 200 125th St. – Ocean City, MD
Are you looking for an effective and easy way to promote your business or organization and support your local community?
Ocean City Recreation and Parks wants to PARTNER with YOU!
Become a member of our COMMUNITY TEAM: Please download our brochure for more information.
For additional information and questions, please contact Travis Davey at [email protected]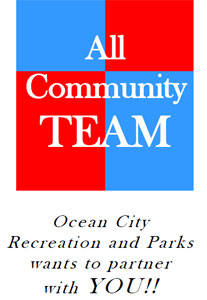 ALL COMMUNITY TEAM!
These community partners support our youth and community by helping to offset the costs of the programs, camps, activities and events that we offer. Please support them.
To be become a member of the OCRP All Community Team, please contact Al "Hondo" Handy or Joanne Shriner at: 410-250-0125
OC/Berlin Optimist Club • American Legion Post #166 • OC Elks Lodge #2645 • Delmarva Irish – American Club • VFW Post #8296 • Knights of Columbus • Kiwanis Club of Ocean City Pines – Ocean City ABBA Bail Bonds • All States Construction • Atlantic Dental • Atlantic General Hospital • Atlantic Retina Center • Atlantic Shore Realty • Bahia Marina, Inc. • Baja Amusements • Bayside Skillet • Bonfire Restaurant • Buxy's Salty Dog Saloon • Castle In The Sand Hotel • Clarion Resort Fontainebleau Hotel • Fager's Island • Fat Daddy's Sub Shop • Fisher's Popcorn • Fish Tales Bar & Grill • Francis Scott Key Family Resort • Frescos Restaurant • Frick Mechanical, LLC • Harborside • Hotel Monte Carlo • Maryland Coast Dispatch • Maryland Recreation & Parks Association • Norman Law Firm • Park Place Jewelers Diamonds • Planet Maze/Lasertron • Grand Prix Amusements • OC Parrothead Club • Professional Mortgage Services • OC White Marlin Open • Ocean City F.O.P. • Oceanic Fishing Pier • Old Pro Golf • Phillips Crabhouse • Quiet Storm • Sea Colony Recreational Association, Inc. • Seaside Smiles – 7-Eleven Store #23366 • Taylor Family Restaurant • The Hobbitt Restaurant • The Original Greene Turtle • The Resort Golf Guide – R & R Services • Trimpers Rides • Tuckahoe Acres Camp Ground • White Marlin Open • William Allen, DDS • Your Shore Getaway

OCEAN CITY RECREATION & PARKS – CLARION RESORT FONTAINEBLEAU HOTEL PARTNERSHIP
WE ARE THRILLED TO ANNOUNCE THAT THE CLARION RESORT FONTAINEBLEAU HOTEL IS OUR HOST HOTEL FOR THE 2016 SUMMER YOUTH CAMPS AND TOURNAMENTS! This partnership allows Ocean City Recreation and Parks Department to offer families a large variety of summer youth programs and tournaments at a reasonable cost to visitors. Consider thanking them by booking your stay with them. The Clarion Resort is conveniently located less than half a mile from Northside Park! Stay tuned for special promotions…
The Clarion Resort is conveniently located less than half a mile from Northside Park.