PARTNERSHIP OPPORTUNITIES
Phone: 410-250-0125 – Address: 200 125th St. – Ocean City, MD
Are you looking for an effective and easy way to promote your business or organization and support your local community?
Ocean City Recreation and Parks wants to PARTNER with YOU!
Become a member of our COMMUNITY TEAM: Please download our brochure for more information.
For additional information and questions, please contact Travis Davey at [email protected]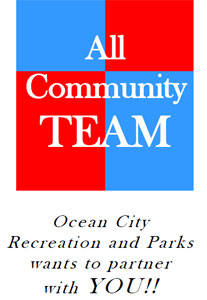 ALL COMMUNITY TEAM!
These community partners support our youth and community by helping to offset the costs of the programs, camps, activities and events that we offer. Please support them.
To be become a member of the OCRP All Community Team, please contact Travis Davey or Shelby Dehne at: 410-250-0125
OC/Berlin Optimist Club • American Legion Post #166 • OC Elks Lodge #2645 • Knights of Columbus • Kiwanis Club of Ocean City Pines • Anthony's Deli • Atlantic General Hospital • Atlantic Shore Realty • Atlantic Orthopedics • Bahia Marina, Inc. • Baja Amusements • Bearing Construction • Bonfire Restaurant • Brilory Group – Shamrock Realty • Castle In The Sand Hotel • Chesapeake Eye Center • Chick-Fil-A • Clarion Resort Fontainebleau Hotel • Fat Daddy's Sub Shop • Delmarva Irish American Club • Dick's Sporting Goods • Dolle's Candyland • Dough Roller • Harborside • Holly Kia • Hooked Restaurant • iHeart Media • Maryland Coast Dispatch • Maryland Recreation & Parks Association • McDonalds • Pablo's Bowl • Grand Prix Amusements • OC Lioness Club • OC Lions Club • OC Paintball • Ocean City F.O.P. • Seacrets • Seaside Smiles • The Hobbitt Restaurant • The Original Greene Turtle • Tuckahoe Acres Camp Ground • Whiskers Pub
OCEAN CITY RECREATION & PARKS – CLARION RESORT FONTAINEBLEAU HOTEL PARTNERSHIP
WE ARE THRILLED TO ANNOUNCE THAT THE CLARION RESORT FONTAINEBLEAU HOTEL IS OUR HOST HOTEL FOR SUMMER YOUTH CAMPS! This partnership allows Ocean City Recreation and Parks Department to offer families a large variety of summer youth programs at a reasonable cost to visitors. Consider thanking them by booking your stay with them. The Clarion Resort is conveniently located less than half a mile from Northside Park! Stay tuned for special promotions…
The Clarion Resort is conveniently located less than half a mile from Northside Park.