ST. PATRICK'S SOCCER TOURNAMENTS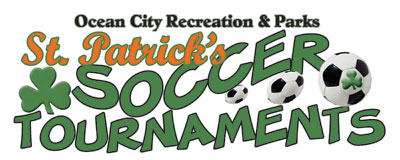 Welcome to the home of the Ocean City Recreation & Parks St. Patrick's Indoor Soccer Tournaments. This annual tournament series continues to showcase some of the best indoor soccer teams in the mid-Atlantic region.
U18 Boys and Girls Divisions (2000 birth year and up, exception born Sept 1 – December 31, 1999) and Adult Co-Rec Division February 23 – 25
U12 (2006 birth year and up) and U16 (2002 birth year and up) Divisions March 2 – 4
U10 (2008 birth year and up) and U14 (2004 birth year and up ) Divisions March 9 – 11
Adult Men's and Women's Division 18+ March 16 – 18
Format: Pool play followed by a single elimination tournament.
Entry Fee: $400 non-refundable entry fee (payable to Town of Ocean City)
Entry Period: January 2nd – January 28, 2018
Entry Information: Teams who played in the 2017 tournament and teams entered in the OCRP indoor soccer leagues will receive priority consideration if registered by January 19, 2018. After January 19, 2018 all entries will be taken on a first come, first served basis until January 28th or until all spots are filled (whichever is sooner). No team is guaranteed a spot in the tournament just because they have participated in a previous year. Entry forms and payment must be received for a registration to be complete.
Player Eligibility: In youth divisions, birth year shall be used to determine a player's age for tournament participation. For the Open (18+) divisions age shall be determined as of February 23, 2018 (Adult Co-Rec) and March 9, 2018 (Open). All teams must provide proof of age for all players prior to the player's participation. This proof may include, but is not limited to USSF ID cards, birth certificates, Driver's Licenses or State Identification Cards and military identification cards.
Divisions of Play:
U10 Boys
U14 Boys
U18 Boys
U10 Girls
U14 Girls
U18 Girls
U12 Boys
U16 Boys
Men's (18 and over)
U12 Girls
U16 Girls
Women (18 and over)
Adult Co-Rec Division
(Note: Each division must have at least 4 teams entered.)
Rosters: Rosters are final at check-in and are limited to 18 players. No exceptions! Please include full names, numbers, and dates of birth on the roster.
Awards: Team and individual awards will be given to the champion and runner-up teams within each division.
Hotel Accommodations: The official host hotel is the Clarion Resort Fontainebleau Hotel. Please call them at 800-638-2100 for more information.
To Register: Use registration form and submit payment by the deadline to:
Kim Allison  [email protected]
Chris Clarke  [email protected]
Ocean City Recreation and Parks
200- 125th Street
Ocean City, MD 21842
Attention: St. Patrick's Tournament
REGISTRATION FORM: Download Registration Form
ROSTER FORM: Download Roster Form
RULES & REGULATIONS: Download PDF
SCHEDULES & BRACKETS

(Schedules & Brackets are included as one download unless marked otherwise)
How do I get to Northside Park?
From the West (Baltimore, DC, etc.):
Take US 50 East to MD 90 East. MD 90 ends at Coastal Hwy in Ocean City. Go North on Coastal Hwy until 123rd Street. Turn left on 123rd Street. Go West 1 block and turn right on Jamaica Ave. The facility is on your right.
From the North (DE):
Take Hwy. 1 through Fenwick Island and into Ocean City. Once you enter Ocean City you are now on Coastal Hwy. Continue south until you get to 127th Street. Turn right on 127th Street. Go West 1 block and turn left on Jamaica Ave. The facility is on your right.
How do I register for the tournament?
We begin accepting registrations on January 2, 2017. Please do not try to register before January 2nd. At that time please use the registration forms provided on this website. These forms must be submitted by the January 27th deadline.  In addition a registration is not complete until both the payment and the registration form are received.
I sent in my forms, when will I find out if my team is in the tournament?
Teams are notified of their status on the first deadline for registration (January 20th). If you have a question about your status please e-mail us
How many games do we get for $400?
This is a three game guarantee tournament. Each team plays 2 pool play games for seeding purposes and then is placed into a single elimination bracket. Teams may play as many as 7 games to win their division championship.
Does the $400 fee include referee fees?
Yes, the $400 registration fee includes your entry and all referee fees.
Where should we stay in Ocean City?
The Clarion Resort Fontainbleau Hotel is out host hotel. They are located at 100th Street and Coastal Highway, just 25 blocks from the tournament site. They have special tournament rates available, just call 1-800-638-2100. Don't forget to mention that you are playing in the St. Patrick's Indoor Soccer Tournament!
How many players are on the floor?
Games for most age groups are 6 v 6 (including goalkeeper). *Exceptions: When playing in the East Gym the Adult Divisions will play 5 v 5 (including keeper). When playing in the West Gym U-10 Divisions will play 7 v 7 (including keeper).
What shoes should my players wear?
Since both gyms have hard floors it is recommended that all players wear court shoes (for example Sambas). Turf shoes are NOT recommended. In fact many players find that they slip a great deal when wearing turf shoes.

What is the roster size and when is the roster due?
There is a strict 18-player roster cap with NO exceptions. Also a team is limited to only 2 coaches in the bench area.  Additional coaches will be ejected and the team will serve a 5-minute major penalty. Rosters should be submitted with your registration, but final rosters are due at check-in and no later than 30 minutes prior to your first scheduled game.
What are the age restrictions and do we have to show proof of age?
Each youth division is based on the birth year for every two years. We are unable to offer a separate division for each birth year. U-10 (2008) and up, U12 (2006) and up, U14 (2004) and up, U16 (2002) and up, U18 (2000) and up. There will be an exception in the U18 division with (1999) birthdates of September 1st and after will be permitted to play. In the Adult divisions you must be 18 yrs. of age by the first day of the tournament. All teams registered must provide proof of age at CHECK-IN at least 30 minutes prior to their first game.
How many teams are in the tournament?
The number of teams varies each year and for each division.  Most divisions have anywhere from 9 to 18 teams.

When will my first game be played?
All teams should be prepared to play as early as 5:00pm on Friday with teams from 3+ hours away usually scheduled for 7:00pm games and later.  Most teams (85%) will play a Friday night game. Exception: The Adult tournament may play as early as 12 noon on Friday and all teams can expect to play a Friday game.
When are game schedules published?
Game schedules are released as soon as they are ready.  Look for them on the website approximately ten days prior to your tournament weekend.

Do you accept visiting officials?
We do not accept visiting officials.  For our tournaments we contract with the Harford Sports Officials Association and the Maryland Intercollegiate Soccer Officials Association to provide the highest quality officials possible.  Most of our officials work NCAA games at various levels.  In addition we have had MLS and FIFA referees work for us in the past.

How big are the fields?
The West Gym is approximately 140′ x 100′ with an eight foot high dasher wall and a Sport Court plastic tile floor.
The East Gym is approximately 110′ x 95′ with a four foot high dasher wall and a Mondo rubber floor.
Do you have a concession stand?
Yes, our concession stand opens 15 minutes prior to the first game and stays open until at least 9pm.
Do you sell official tournament apparel?
The OC Rec Boosters sell official tournament apparel during the weekends.  They will be selling short and long sleeve tournament t-shirts.