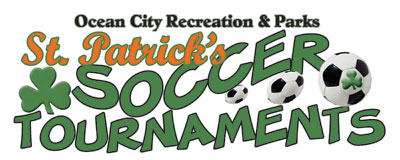 Thank you for your interest in the St. Patrick's Indoor Soccer Tournament. This adult tournament provides the opportunity to test your skills against the best of the best. Not 18 yet? Don't fret! The Ocean City Indoor Cup offers tournament play for teams 10-18. Younger divisions play February 7-9 (2006 – 2010) and the older divisions play February 21-23 (2002 – 2005). These tournaments will offer the same, exciting indoor soccer action before everyone heads outdoors for the spring season. We are also offering the action packed Futsal Classic tournament for ages 10 – 18 the weekend of January 10-12.
The St. Patrick's Indoor Soccer Tournament is bringing back the popular Over 30 Division for both men and women. These exciting divisions will play the same weekend as the Co-Rec Division, February 28- March 1. We will also have our top flight event, the Men's and Women's Divisions, March 13-15.
February 28 – March 1, 2020
Adult Co-Rec (18+)
Men's Over 30
Women's Over 30
March 13-15, 2020
Men's (18+)
Women's (18+)
TEAM ENTRY FEE:  $400 non-refundable fee must accompany team entry form.
Registration Deadline: February 19, 2020 or when the tournament fills whichever is first
Mail to:  200-125th Street, Ocean City, MD 21842
Attn:  St. Patrick's Soccer Tournament
Checks Payable to:  The Town of Ocean City, Fax to:  410-250-5409, E-Mail to:  [email protected]