CRIME PREVENTION PROGRAMS
Residential Checks
Bicycle Registration
Citizens Police Academy
Neighborhood Watch
R.A.A.M.
Residential Checks
Are you going on vacation for a week or two? Do you own a second home in Ocean City that is currently unoccupied? Let us know and we will check on it up to five times per week while you're away. The Residential Security Check program is completely free and gives citizens that leave their homes peace of mind while they are away. Simply contact the OCPD at 410-520-5395 or fill out the Residential Security Check form to sign up. Employees will ask a series of questions so that any officer that completes the check will know what to look for at the residence.
Bicycle Registration
The Ocean City Police Department offers a free bicycle registration program for all residents of Ocean City. Citizens who own bicycles are encouraged to register their bicycles as a deterrent to crime and to promote the safety and accountability of these valuable items. Each year, OCPD officers locate numerous abandoned bicycles and bring them to the Public Safety Building for safekeeping. If the bicycle is registered, officers will quickly return the bicycle to its registered owner. You will receive a small decal to affix to the bicycle frame.
To sign up, complete our registration form below.
Citizens Police Academy
The Citizens Police Academy was created to enable citizens to learn more about the Ocean City Police Department and build relationships between the police and the community. During this course, students meet various officers to learn about traffic enforcement, evidence collection, firearms, arrest procedures, narcotics enforcement, and many other topics. Students also participate in practical scenarios, which afford citizens a hands-on opportunity to understand various law enforcement applications.
Students will interact with the Ocean City Police Department, Worcester County State's Attorney's Office, Ocean Pines Police Department, Worcester County Sheriff's Department, and the Maryland State Police. Each agency brings a unique skill set for the student to learn from.
Citizens Police Academy has a limited class size, and applicants must be 18 years of age to participate. Interested citizens must complete an application and permit the Ocean City Police Department to conduct a background check.
The Citizens Police Academy begins in October and will run for ten weeks in the evening hours. The Citizens Police Academy is not only for citizens that wish to see the inner workings of the local police department but also serves as the initial training needed to become a volunteer Auxiliary Officer. The 2022 class will begin on Tuesday, October 11, 2022, at 6 p.m.
Click here to download an application. For more information about the Citizens Police Academy, contact Deputy Communications Manager Ashley Miller at 410-520-5395 or [email protected]
Neighborhood Watch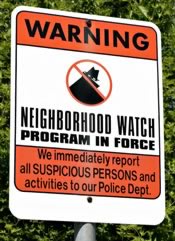 In recent years, neighborhoods have experienced rapid change. The old, well established neighborhood has been replaced by a highly transient, growing community where people seek more and more privacy. This life-style tends to promote unfamiliarity with neighbors and a corresponding lack of concern. Unfortunately, this enhances the opportunity of the criminal element and increase the communities vulnerability to crime.
This condition dictates the need for a crime prevention program which will enhance neighborhood security, heighten the communities power of observation and encourage mutual assistance and concern among neighbors.
The following Ocean City neighborhoods have established, active neighborhood watch groups. For information on how to join one of the neighborhood watch groups, contact the Community Services section of the Ocean City Police Department.
Neighborhood Watch is one of the most effective and least costly ways to prevent crime and reduce fear. It fights the isolation that crime both creates and feeds upon. It forges bonds among area residents, helps reduce burglaries and robberies, and improves relations between police and the communities they serve.
As a member of Neighborhood Watch, you make a vital contribution to the safety of your family, home and community. You are encouraged to be aware and to act as the "eyes and ears" of the police.
Neighborhood Watch consists of three basic steps:
Having a security survey of your home performed by a representative of the Public Affairs Office.
Reporting suspicious and criminal activity to the police.
Engraving and making an inventory of your valuables.
The real key to this program, however, is getting to know your neighbors and sharing with them the responsibility of protecting your neighborhood. We currently have a neighborhood watch program established in the following areas:
Caine Woods
Edgewater Avenue
Bayshore Drive
Caine Keys II
Little Salisbury
Montego Bay
Sundowner Park
Boardwalk
If you live in these areas and are interested in joining neighborhood watch, please give us a call. For more information on Neighborhood Watch and other crime prevention programs, contact:


| | | |
| --- | --- | --- |
| DCM Ashley Miller | | (410) 520-5395 |
R.A.A.M.
The R.A.A.M. program is an initiative designed to address underage drinking and the unacceptable behavior often associated with underage drinking. An essential component of the R.A.A.M. program is the great partnership that has been formed with the Ocean City business community. Without their help, this program would not be successful.
Each spring, OCPD officers' conduct training presentations for area restaurant and alcohol beverage sales employees. Area employees are given tips to successfully spot a false ID to prevent selling alcohol to minors. Other components of the R.A.A.M. program are high school presentations, compliance checks and visits to area bars, restaurants and liquor establishments.
For more information about the R.A.A.M. program, contact Deputy Communications Manager Ashley Miller at 410-520-5395 or [email protected]